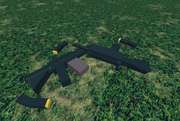 This is a list of all known available weapons in Deadzone.
Light Machine Guns
Edit
Assault RiflesEdit
M16 [STANAG 30]
M4 [STANAG 30]
FN Fal [STANAG 30]
AK47 [39mm 47m]
AKS 74u [39mm 47m]
Scar [STANAG 30]
AKM [39mm 47m]
Famas [STANAG 30]
AN 94 [39mm 47m]
Barreta M9 [9mm Magazine]
Sauer SIG P250 [9mm Magazine]
Desert Eagle [.50 Magazine]
Golden Death [.50 Magazine]
Colt Anaconda  [.357 Magnum]
PP-19 Bizon [25mm Tokarev]
Vector [.45 ACP Custom]
FN P90 S [9mm Custom]
Tactical P90 [9mm Custom]
Shotguns
Edit
M1 Garand [.308 Winchester]
Sniper Rifles
Edit
VSS [39mm 43M & 39mm 87M]
Attachments
Edit
Removed Deadzone Remade weapons, to not confuse people.
Ad blocker interference detected!
Wikia is a free-to-use site that makes money from advertising. We have a modified experience for viewers using ad blockers

Wikia is not accessible if you've made further modifications. Remove the custom ad blocker rule(s) and the page will load as expected.